Congratulations to our competition winners!
Reg Franklyn, of Piccadilly, amazingly won our M&M's giveaway with the closest guess! Only 4 of the mark!
It came at the ideal time with Reg announcing his retirement this week!
With so much time on his hands now, we don't expect the M&M's to last long! Have to hide them from the wife Reg!
Congratulations goes to Julie Tritton, of Lamington, who took out the "Guess the Carton" competition with a correct guess of Cooper's 62 Pilsner. A special mention to Brad Stacey who also guessed correctly but was pipped at the post!
What was her secret? "It wasn't all that hard, Google helped me a lot".
When asked how she planned to enjoy the carton, she told us "I don't even drink beer, but Tim (her partner) will have a nice surprise when he gets home!".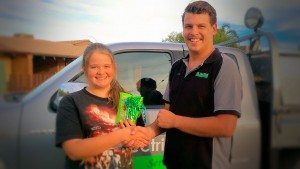 We would also like to give Olivia Needham, of South Kalgoorlie, a thank you from AVL Electrical. Olivia showed us her love for M&M's with a guess each week of the competition! We have to acknowledge that support with a prize! She's lucky though, having that bag of M&M's in our office for a month wasn't easy!
Thanks to everyone who entered the competitions! This truly is one of the most enjoyable aspects of my job! We encourage everyone of our customers and supporters to spread the word about AVL Electrical to anyone they know in the area. 90% of our work is returning customers and word of mouth recommendations and we want to keep it that way.
So tell your friends to "like" AVL Electrical Services and stay up to date with future promotions and competitions!
Kindest Regards
Lyell Allen